We will be visiting the Department of Radiation Oncology on Tuesday, Janaury 25, 2000.
Please meet there before 9:45. (See the map and directions below.)
The following web links may be useful:
General Radiation Oncology Information
UM's Department of Radiation Oncology
UM's Division of Radiation Physics
International Journal of Radiation Oncology, Biology, Physics
---
---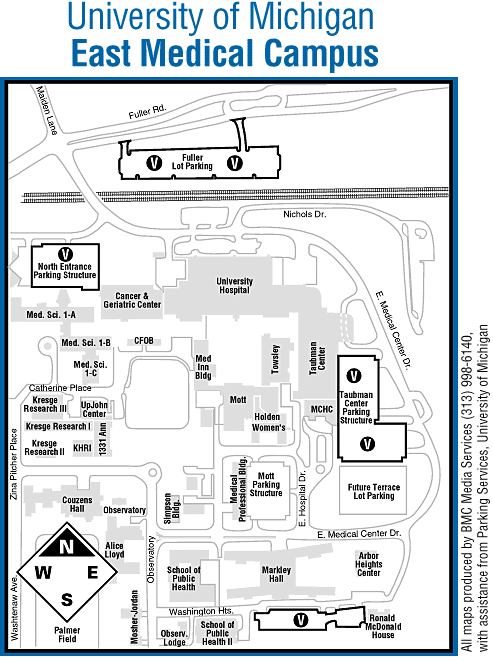 The Department of Radiation Oncology is located in the main university
hospital building which is the nine story high building at the northeast
corner of the medical center complex (1500 E. Medical Ctr. Dr.). There
is a visitors parking garage on the east side of the complex. The campus
bus drops off on Observatory and at Zena Pitcher near the medical school.
Our department is located on the lowest level B2. We will meet in the
classroom/conference room B2C430 which is located in the department. The
easiest directions are to start from the first floor main information desk
which is near the main hospital entrance. From this point, head down the
long hallway (west) to where you see a red pillar. Take a right and go to
the bank of elevators (East elevators). Take the elevator down to B2 and
when you exit the elevator, the Radiation Oncology department will be
straight ahead through the double doors. The conference room is the first
door to the left.
The department is also accessible from the Radiation Oncology parking
lot (no visitor parking) which is located on the north side of the
hospital. The receptionist there can direct you.